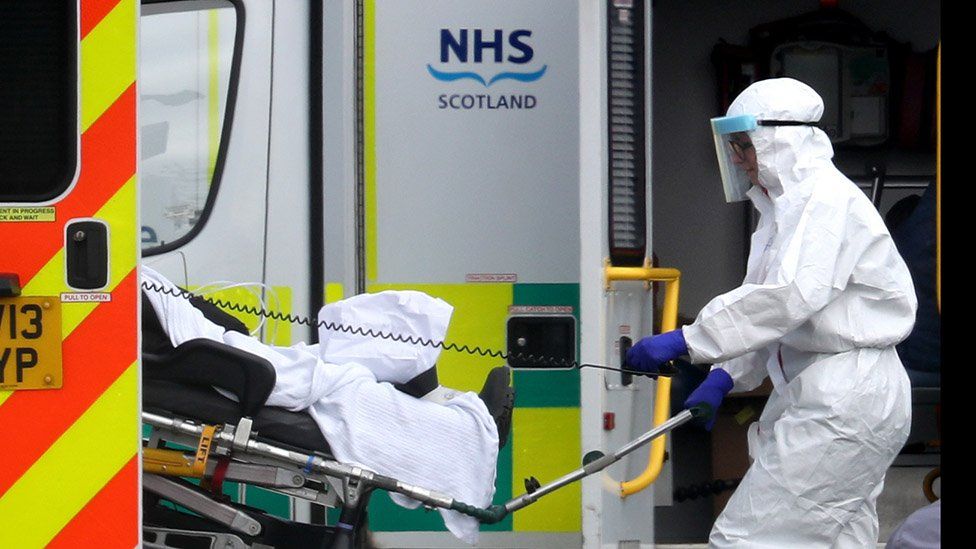 The number of patients in intensive care with Covid has risen sharply, amid warnings that tougher lockdown measures may be needed.
Latest Scottish government figures show 1,877 new cases of Covid were reported in the last 24 hours
The number of people in intensive care has risen from 109 to 123, the highest daily jump since October.
Deputy First Minister John Swinney said a tightening of restrictions could not be ruled out.
A total of 1,598 people are currently in hospital with recently-confirmed Covid, up from Saturday's figure of 1,596 patients which was the highest number since the outbreak began.
The daily test positivity rate was10%, up from 8.7% on Saturday, when 1,865 positive cases were recorded.The deputy first minister said the country was facing "a very alarming situation" with the virus.
Speaking on Politics Scotland, Mr Swinney said coronavirus does not show much sign of "abating" and he would not rule out tougher lockdown measures.
He said: "We're seeing case numbers which are hovering around 2,000 per day... so we've got an accelerating situation on our hands and we have to constantly review whether more restrictions are required."
Workplaces and takeaways
There have been some encouraging signs in recent days with average positivity rates falling, a possible indicator that the lockdown is having an impact, but Prof Linda Bauld, of Edinburgh University, urged caution.
She said: "The numbers are not reducing at the rate which we want them to, so [it is] still a very fragile situation.
"The measures we have now I hope are working but it's not clear whether they are tough enough.
"I think the key change the government could make is in the sectors which are still open, particularly workplaces but also things like takeaways and click and collect."Professional sport, along with manufacturing and construction work have been allowed to continue in this lockdown, whereas they were not in the first wave in March.
The deputy first minister said the meeting of the cabinet which agreed the latest lockdown saw ministers wondering if they had gone far enough to stop the spread.
Mr Swinney added: "I don't think I'm revealing a state secret when I say that the debate within cabinet was not whether we were going too far but whether we were going far enough."
A total of three deaths were recorded in the past 24 hours but these figures are lower at weekends because register offices are generally closed.
Subscribe here to never miss any good news: 
สมัครjoker